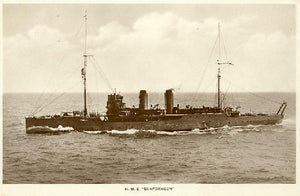 Snapdragon Guitars – A legacy of travel
When we settled on Snap Dragon as the name for our company, we knew folding travel guitars wouldn't necessarily be the first thing to spring to mind.
Snapdragons in one form or another have been around for centuries. You may know the elegant and colourful flowers that 'snap' back into their distinctive dragon's head shape after being gently squeezed, or even the obscure parlor game played at Christmas where daring participants pluck and eat floating raisins from a bowl of flaming brandy (the trick is to get the flaming fruit into your mouth before it burns your fingers or singes your eyebrows).
Maybe it's a combination of the elegant beauty and fiery sting that led the Royal Navy give the name to two warships in the 20th Century? The first iteration of HMS Snapdragon saw active service during WWI in the Mediterranean, where her role was to escort merchant vessels, search for mines and engage enemy ships.
In January 1918, while going to the aid of a British vessel near Malta, she and her crew came upon and defeated a German U-boat. Among the captured crew of U-68, was one Lieutenant Donitz, later to become Grand Admiral of the German fleet, scourge of Allied shipping in the North Atlantic in World War II and successor to Hitler.
HMS Snapdragon was decommissioned in 1934, but her battle honors led to some of her teak being salvaged and kept for future use. In 1937 that teak was used to make souvenirs of the coronation of King George VI. One such souvenir, a handsome teak barrel, now sits upon my desk thanks to a thoughtful Scottish relative.
The name Snap Dragon Guitars always conveyed a sense of adventure and excitement to us, a perfect companion for travels across the globe. Now we know a little more about the history of the name and are proud to be continuing its tradition of travelling and discovery. Wherever your adventure might take you, be sure to have a Snap Dragon Guitar by your side.
- Gerry
---