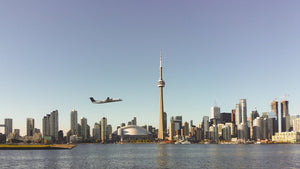 Going on Holiday: Should I Take My Guitar?
It's a question that most players ask themselves at one time or another. Whether you're facing a long-haul holiday flight, train travel for a business trip, or simply driving home for Christmas. Should I take my guitar? Is it worth the hassle of negotiating space? Will I use it enough to warrant the stress of storage? Is my guitar going to survive the journey? They're all real concerns. Because, let's face it; travelling with a traditional guitar can be a monumental pain. They're not designed for portability. With their delicate bodies and fragile necks, it doesn't take much to destroy a beautiful instrument. But then, but then, but then, if you don't have it with you, how are you meant to relax? So, what to do?
Considerations when Flying with a Guitar
Flying is probably the most stressful form of travel when taking a guitar. While you should be allowed to take your instrument as carry-on luggage, many airlines still exercise the right to use their 'discretion'. Which means that if they're worried about space, or simply don't want a guitar in the cabin for some ill-conceived health and safety reason, your instrument will end up the hold. And that's not good news. Whether through pressure, temperature changes, or simply poor handling, hold travel can do terrible things to a guitar. Careful packing can help protect your instrument, but then you also eating into your luggage allowance.Of course, if all goes well, you do have your guitar with you when you reach your destination. Which is always a major plus. Especially if you're going to be away for a while. So, pluses and minuses.
Considerations when Travelling by Car, Train or Bus with a Guitar
Overland travel with a guitar is less of a problem in terms of damage. On the whole, your instrument will stay in roughly the same environment as you. So while there are a few issues relating to car travel, and you will have to be careful not to leave your instrument in your vehicle in extreme temperatures or overnight, things like air pressure and poor handling shouldn't be such a concern. But you are still left with the problem of space – how much can you physically carry getting on and off public transport? If you're taking your family, will there be room after you've factored in the pushchair and travel cot? Of course, your kid could sleep in a drawer, but that may cause some domestic issues…
How Snap Dragon Could Help
Snap Dragon's folding travel guitars were created to overcome these problems. Designed, originally, for personal use by Gerry Dale, a very frequent flyer who experienced more than his fair share of guitar-travel-related angst, Snap Dragon guitars have all the sound, oomph and soul of a traditional instrument. But can be completely compacted for storage and travel – without impacting on sound.
Available in acoustic, electric and bass instruments, some Snap Dragon models can be reduced to just 15cm x 17cm x 54 cm when packed away. This makes them ideal for travel. Not just because it reduces their physical footprint. But because it reduces the area for potential damage. With no neck standing proud, it can't be snapped. With strings coiled nicely away they can't tighten and tear the frets or bow/crack the wood. And because the entire instrument is so much smaller, it can slip into a backpack and stay with you, however you travel.
If you're weighing up the pros and cons of taking a guitar away with you, the likelihood is that you'll miss it if you don't. Because guitars are great for relaxation. They can free your mind like almost nothing else. But if you're totally stressed about navigating transport, then that kind of takes the shine away. So, why not pick up a folding guitar? It gives you the best of both worlds in one.
---