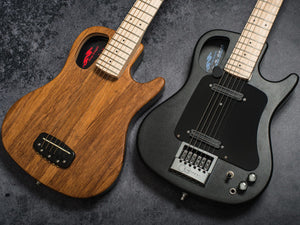 Returning from lock down
It's fair to say that 2020 has been a challenging year so far. Eveyone has had to come to terms with Covid-19 in their own ways. We count ourselves lucky to have only been inconvenienced by it and not directly affected by the tragedy unfolding around the world.

With that said, as a small family business, that inconvenience has been keenly felt. Before the lock down, Snap Dragon Guitars was in the process of moving to a new location and starting work on some exciting new models. However, with the escalation of the pandemic, we were forced to shut down our production and stop shipping our instruments. Add to that the fact that we're in the business of producing compact folding guitars for people to travel with, and you can see the predicament we've been in.

There were a lot of questions marks about the best way to proceed. However, those questions were made a lot easier to consider with the support of everyone who contacted us during the lockdown. It is really heartening to see there is still enthusiasm for what we do and a shared desire to not let this temporary situation get in the way of the thing we're all passionate about: playing music.

We're really pleased to announce that we've completed the move to our new
location and will be starting production again this week, albeit at a reduced capacity. We're still following government guidelines on social distancing and will be taking every precaution to guarantee that you receive a guitar as safely and as quickly as possible. If you've got any questions at all regarding placing an order, please get in touch via the contact page bellow

We'd like to say a massive thank you to anyone who contacted us over the last few weeks. We look forward to a time where we can see you all enjoying your Snap Dragon Guitars around the world again.

Stay Safe

The Snap Dragon Guitars team.
---