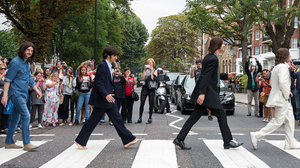 10 Places Every Music Fan Should Visit Before They Die
If you love music, especially if you play, it has a tendency to take over. All casual conversations to lead to it. The people you hang out with generally feel the same. You find yourself asking, on almost every occasion, 'should I take my guitar?' And you book holidays to destinations with a musical flavour, usually leading to spousal exchanges that run: 'Oh really? I had no idea that our hotel was just a block away from Elliott Smith wall (4334 W Sunset Boulevard). But… as we're here… don't you think it would be rude not to check it out?'
So, if you're one of those music fans – and we have to admit that the entire Snap Dragon team is – here's our take on the most iconic music destinations that must go onto every bucket list.
1. Waterloo Bridge, London
So, the likelihood is, if you live in the UK, this isn't going to be much of a holiday for you. And no matter how long you gaze on Waterloo Sunset, you're unlikely to find paradise. But… The Kinks! Do we need to say more?
2. Reykjavik
Probably the best-known thing to ever come out of Iceland, Sigur Rós began life in Reykjavik and quickly conquered the world with their semi-ethereal sound. If you're looking for a place to channel your inner Jónsi while admiring some frankly spectacular scenery, Reykjavik is it.
3. Strawberry Fields, New York
It kind of doesn't really matter if you're a Beatles Fan or not. There is something very special about the memorial of John Lennon in Strawberry Fields, Central Park. As you'd expect, it's all about peace. And we could all do with a little bit more of that.
4. Vienna, Austria
It's not exactly contemporary in style, but music practically oozes out of Vienna's pores. The one-time home of Beethoven, Brahms, Mozart, Strauss, Mahler, Haydn and Schubert; if you have any pretensions of musical sophistication, Vienna is the destination for you.
5. Folsom Prison, California
With 90 million record sales under his belt, the Man in Black is one of the icons of music. And while you could visit his house in Hendersonville, Tennessee, or The Grand Ole Opry, where he staged some of his most famous performances, for us, it's in Folsom Prison that you can find Johnny Cash… Just maybe don't do anything to try to see it from the inside.  
6. Graceland, Memphis, Tennessee
It's an obvious choice, but it's obvious for a reason. For any rock 'n' roll buff, the home of Elvis is a must-see. And for everyone else, it's a must-see-to-be-believed for all its inherent oddity.
7. Père Lachaise Cemetery, Paris
It's among the most famous graves sites in rock history. And you're highly unlikely to be able to visit it alone for some quality introspection. But Jim Morrison's grave site is a must if you happen to be in Paris. And if you feel like extending the theme, why not head over to Montparnasse Cemetery, too? Take in Serge Gainsbourg's grave and make a really depressing day of it.
8. Hydra, Greece
If you love Leonard Cohen, this is the holiday hotspot for you. Cohen lived in Hydra throughout the 1960s. He continued to visit intermittently until he died in 2016. Practically everyone there over the age of ten has a story to tell of him.
9. Hansa Studios, Berlin
A virtual Mecca for all music fans, Hansa Studios has played host to: Iggy Pop, Brian Eno, U2, Depeche Mode, Nick Cave, R.E.M., Snow Patrol, The Hives, Supergrass, Nils Landgren, David Byrne, Marillion, Killing Joke, Real Life, Bronski Beat, Crime & the City Solution, Siouxsie and the Banshees, Japan, Paul Anka, Anne Clark, Alphaville, Tangerine Dream, Boney M. But. BUT. It's best known as the place where the late great David Bowie recorded Heroes. So, for us, it needs no further recommendation.
10. Abbey Road, London
Yeah. We know. But you know it too. You have to do the walk. You have to. You have to you have to you have to you have to. If you call yourself a music fan, you have to.
You. Have. To.
If you are a regular traveller and find yourself endlessly stressing over the logistics of travelling with your guitar – how to pack it, whether you'll be allowed to carry it on – it might be worth considering an instrument specifically designed for travel. Available as acoustic, electric, and bass, Snap Dragon's folding travel guitars slip into a backpack and can go wherever you do.
Call us today to discuss which model might be best for you: +44 (0) 1277 321163
---